Venue & Hospitality
Holiday Inn Atrium 317 Outram Road Singapore 169075
Conference Dates: May 18-19, 2018
Hotel Services & Amenities
Audio/Visual Equipment Rental.
Business Center.
Business Phone Service.
Complimentary Printing Service.
Express Mail.
Fax.
Meeting Rooms.
Office Rental.
Photo Copying Service.
Secretarial Service.
Telex.
Typewriter.
Video Conference.
Video Messaging.
Video Phone.
ATM.
Baggage Storage.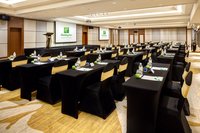 Transportation
Driving Directions Updating Soon...
About City
Singapore is an island city/state which is off to the Malaysian southern area which has a tropical climate. Singapore is the smallest state in Southeast Asia. The city has a large number of populations. The population follows multicultural management. It is the most busiest place, global financial center, the place where the market value has proved high in the shopping paradise and also in the activities like dining and entertainment. Tourists from different areas visit Singapore to have a great time at this place, it has numerous tourism places. Official languages of Singapore are English, Malay, Mandarin and Tamil. It has ranked highly in education, healthcare, employment sector.
SINGAPORE, known as "the LION city," becomes a favorite destination because it is a global city and is a densely populated island with tropical flora, parks and gardens. Singapore is a global commerce, finance and transport hub.
Singapore is considered as an important center for higher education and harbors, healthcare, well reputed and prestigious colleges and Universities. Singapore conferences indeed play a vital role in promoting scientific information and ideas all over the world. It can be considered as a suitable medium for the relocation of valuable knowledge about research and novel advancements worldwide. The conferences taking part here would promote a variety of scientific ideas among contenders belonging to diverse areas of science and technology.
Apart from this, Singapore has been set aside for parks and natural reserves. The network of natural reserves, parks, park connectors, natural ways, tree-lined roads and other natural areas have enhanced the sense of green space in the city which will keep you busy for weeks. Singapore has a tropical rainforest climate with no distinctive seasons, uniform temperature, pressure, high humidity and abundant rainfall. Sentosa, Singapore Flyer, Universal Studios Singapore, Night Safari Singapore, Singapore Botanic Gardens, Jurong Bird Park, Singapore Zoo, Sri Mariamman Temple, Pulau Hantu famous for its rich coral reefs and Peranakan Museum are some of the points of interest in Singapore. A splendid location, life expectancy, quality of life, personal safety and housing that is unsurpassed for its livability makes Singapore a city to visit and remember.